Fireplaces are beautiful gathering spots for you to spend time with your loved ones on brisk and chilly days. Meant to be eye-catching centerpieces that act as a room's focal point, fireplaces often bring coziness, light, and warmth to a room and your home's overall design. If you're looking to update your traditional fireplace this season or are adding a new one to your home, installing tile around your fireplace is a great way to infuse a spark of striking texture with refined finishes and elevated style.
Why Fireplace Tile?
Porch Coffee Porcelain by Emser Tile
Known for its durability, tile is fairly easy to keep clean, which is why you can often find it as a backsplash in kitchens and baths. There are many different types of tile for your gas fireplace or electric fireplace surround, but not all are made to withstand high temperatures. Ceramic tile, porcelain tile, glass tile, metal tile, quartz tile, and stone tile are just a few examples of tiles that can withstand heat. Even limited to these materials, these fireplace tile ideas come in a variety of textures, shapes, sizes, and patterns. From white subway tile and hand-painted tile to black geometric tiles, marble, mosaic, and brick, you're bound to find a fireplace tile to fit your unique taste.
One thing to keep in mind when installing tile on an old fireplace is that it's perfect for the space surrounding a fireplace, but you should not use it in the firebox. Materials in the firebox need to meet building codes and be able to endure extreme heat. When you are looking for modern fire-safe tiles to upgrade your fireplace, make sure you confer with a flooring expert to ensure that your product selection is safe for high-temperature applications. Another benefit to consider is if your room has carpet or hardwood flooring, as tile will protect the surrounding areas around your fireplace, which are exposed to embers and sparks.
Textural or Sculptural Fireplace Tile Ideas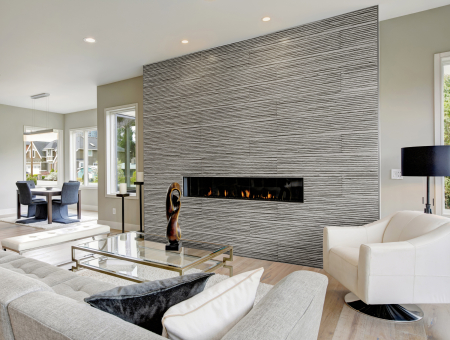 Pacific Rim Silver Engineered Stone Concrete by Emser Tile
For a high-end, artistic look that adds a striking contrast to your fireplace surround, sculptural tile with subtle texture brings dimension to your room. This textured tile is a beautiful work of art all by itself, but when you place textured tile on your modern fireplace, it brings the whole hearth to life. Textural, decorative tiles can come in rough, coarse, smooth, or silky textures. As an eclectic fireplace tile of choice, tiles with texture offer fascinating and stunning designs, whether it's glass tiles, ceramic tile, or another material that matches your aesthetic and adds texture to your space. Both of these styles in fireplace built ins (or even a faux fireplace) makes for an impressive wall feature around your fireplace that is a perfect fit for those looking to add just the right amount of avant-garde.
Modern Large-Format Tiles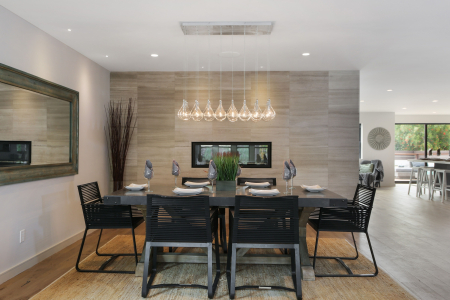 Metro Cream Vein Cut Honed Limestone Emser Tile
Oversized, large-format tiles on your fireplace can make a huge modernistic impact on your décor. This design typically focuses on straight lines and simplicity. Large-format tiles offer rooms a clean look and have the ability to make spaces appear larger. When placed on a fireplace, they create a dramatic statement that will automatically upgrade your fireplace to a statement piece and complement your marble hearth that you've been dying to elevate. When these stunning tiles are installed around a fireplace, they're usually used to create a floor-to-ceiling focal point that draws in the eye, especially for a room with vaulted ceiling or high ceilings.
Rustic-Chic Tile Fireplace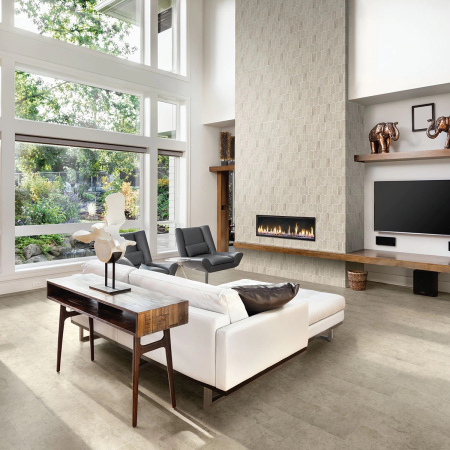 Volcanic Gray Limestone by Daltile
If you're looking to create a more natural and organic fireplace surround, tiles that bring some of the earth tones indoors are ideal for you. A good rustic tile fireplace design has tone, texture, and style that mimics the aesthetics and natural feel of organic elements. Slate tiles give your fireplace a rugged, handcrafted look, while natural stone tiles offer elegance with earthy colors and unique patterns. Wood-look tiles combined with a reclaimed wood mantle, blend charming vintage-washed accents with durability to set the perfect rustic living room scene.
You can even add grout lines to the tile in your fireplace to lend a clean appearance. Use white grout or another neutral shade to create visual interest, setting your tile in contrast against your fireplace. These choices create a fireplace that connects your home to nature, making it a cozy and visually pleasing centerpiece of your living room.
Moroccan-Inspired Tiles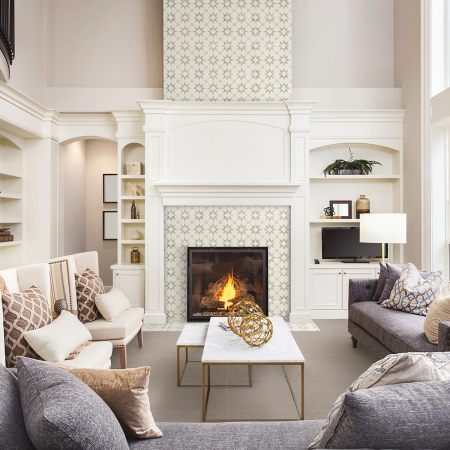 Memoir Glazed Ceramic in Crystal Grey by Daltile
Moroccan-styled décor is inspirational due to its beautiful colors, and bold patterns. To create an opulent Moroccan theme with your fireplace tile surround, be sure to incorporate tile that has abstract and geometric patterns. Hues and shades of blue, green, terracotta, red, and orange are the prominent colorways for this style. Splashes of gold and silver are heavily featured as well and can be used as accents on your modern fireplace for furnishings such as grates and baskets, wood holders, pieces of art for your walls, and tools for your fireplace.
Incorporating various types of tile into your living room and fireplace design is an excellent way to transform your space. Whether you opt for textural, large-format, rustic-chic, or Moroccan-inspired tiles, or any other fireplace tile idea, each choice brings its unique charm and pattern to your home. Your fireplace makes a powerful statement in your living room, and selecting the right tile can elevate your modern fireplace's aesthetics to create a beautiful space designed for both warmth and style. So, explore these diverse fireplace tile options and let your own tile fireplace surround become a captivating focal point in your space.