While this time of year can feel a bit drab and uninspired, one great way to lighten up your home is by bringing in some grounded outdoor elements and placing them centerstage indoors. Incorporating natural materials, colors and fibers into your home decor can actually increase your productiveness by signifying stability and assurance which gives your mindset a positive boost on the dreariest of winter days.  Create a tranquil space in your home by using earthy, grounded shades that mimic nature in your design elements.
Rich Dark Hardwood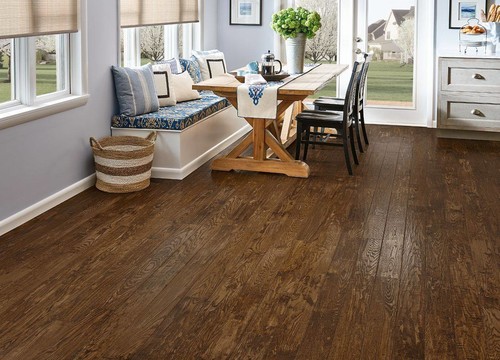 Install a dark-toned hardwood, for instance, a rich mahagony throughout your home to give you the sense of being outdoors amongst the trees and the dark earth. Dark hardwood is the perfect choice for anyone looking to elevate a room in their home as it seamlessly fits into almost any exiting decor whether traditional or modern. Hardwood is a timeless appeal, known for it's long life span and versatility. If you already have a dark hardwood in your space, spruce it up by adding dry flower arrangements that complement the dark tones in your floors —maybe place a sprig of lavender on your nightstand or scatter some dried pampas grass along your coffee table to keep encourage green growth all year round.
Honey-Hued LVT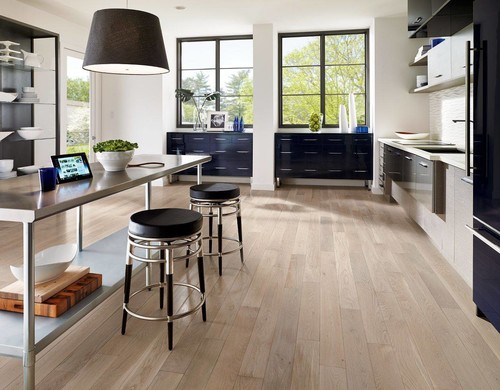 Luxury vinyl planks are a convenient way to mimic natural hardwood throughout your home and provide a waterproof, petproof surface for your active home. While honey-hued luxury vinyl planks in shades of white oak marry well with contemporary design themes, light maple can easily slide into a more traditional home setting. Both can help to bring some warmth to your architecture. These lighter hues also open up your rooms, giving you more natural light and providing an illusion of more space. Honey-hued LVP can contrast really well with darker shaded walls, so if you're looking to paint a room a grounded earthy green or redoing your cabinets in a teal blue, turn to light luxury vinyl planks for the best flooring match.
Naturally Neutral Carpets
With spring right around the corner, what better way to freshen up your home than with a luxuriously natural carpet. Choose soft shades of brown, neutral beiges and richer grays this season. This trend not only brings in natural tones but also provides a nice canvas for other colors to show off. Of course, being sustainable and minimalist is at the top of many designer's minds these days and while purchasing environmentally friendly carpets can be a big investment, their long-lasting benefits outweigh the costs. Most green-selected rugs and carpets are made from recycled polyester or nylon plastic and are more durable underfoot. Selecting natural fibers like wool, sisal and jute is also a perfectly acceptable design route as these materials come in muted shades that are created from natural elements.