This year in home design trends we've seen a big return to romantic inspired western agricultural life, otherwise known on TikTok, Instagram and Pinterest as Cottagecore. Cottagecore is an aesthetic centered around simple ideas that are environmentally and naturally friendly while also promoting cozy comfort. If you're nostalgic for the old ways of life and looking to reconnect with nature, Cottagecore home design is perfect for you with it's timeless, homey appeal. As you look to incorporate this trend into your home decor, think about adding some Cottagecore-inspired area rugs around your house.
Fun and Floral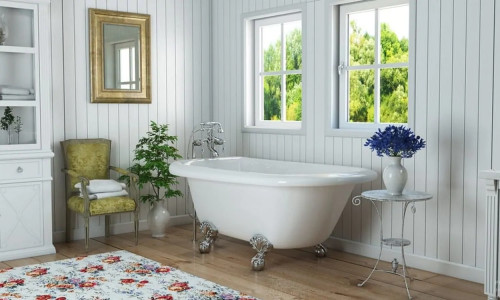 One easy way to hop on board with Cottagecore is simply finding a minimalist space and sprucing it up with a fun floral print area rug. Dress up your bare floorboards in the bathroom next to your clawfoot tub (which is also very on theme) or decorate your bedroom with a beautiful array of French-inspired florals in a plush pink rug to sink your feet into. If floral isn't exactly your cup of tea, try a more botanical-inspired design in muted greens and browns that will still highlight the natural aspects in your room.
Adding Hygge
The Danish ways of hygge are very much a part of the Cottagecore trend as hygge encourages quality time in comfortable spaces. Find an area rug that holds some sort of meaning to you —maybe it reminds you of something your grandma used to have or it's an heirloom rug passed down through the generations. No matter what style rug this is, if you let it infuse your space with its design, influencing other decor in similar shades and patterns, it will lend a comfortable glow to your room. The surrounding aesthetic will surely be a place for good conversation.
Au Natural
Photo of Chadwell in Tundra from the Dabbieri Naturals Collection
Sustainability is one of cottagecore's biggest values, so picking out a rug that's both aesthetically pleasing and environmentally friendly is key. Find something composed of natural materials like sisal or jute. Or, if you prefer a softer area rug, shop greener by checking where your rug is sourced from —many nylon rugs now days can be made from recycled plastic and even mimic the texture of real wool. 
Plaids and Patterns
Photo of Landfair in Espresso from the Dabbieri Collection
Plaids lend a timeless appeal to almost any room in the house, whether its in a throw rug at the base of your fireplace or a blanket hanging off the rocking chair in your living room. Plaids, gingham, checked-patterns and Tartan-inspired area rugs are a wonderful way to infuse Cottagecore throughout your home while also making a bold statement. These patterns give your home a quaint, nostalgic feel. If you aren't ready to commit to a full black and white plaid rug, opt for a softer palette of neutrals that can tie in beautifully with your existing furniture and floors.