This year, Pantone didn't just choose one color of the year, but they gave us two! Illuminating Yellow and Ultimate Gray have been deemed 2021's trendiest colors and will make headlines not just in the fashion industry but in the home design arena as well. While incorporating trendy colors isn't always a simple process given that they're constantly evolving, we're here to provide you with easy inspiration that allows you to blend these fashionable hues into your existing home design themes.
Using Hardwood Floors as a Canvas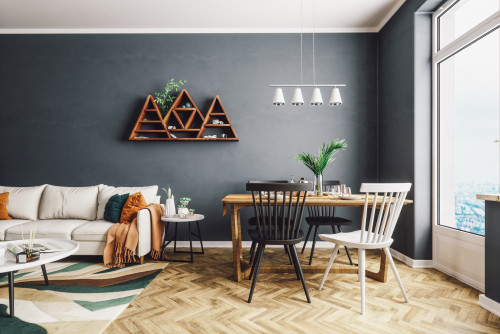 With spring right around the corner, now is the perfect time to upgrade your old floors with the elegance of hardwood. Pick out hardwood floors that complement cool gray tones or warm yellows, as these will work well as a backdrop to your bolder design colors. Hardwood makes for a great canvas as its neutral hues allow it to marry well with almost any color blend. Hardwood floors are a timeless option that will give any room in your house a refined appeal so before you install them, make sure that they also work well with a number of color schemes so you can switch up your decor as trends change. 
Neutral Carpets to Coordinate With
This year, soft surfaces are seeing a return with natural carpets at the forefront. Cozy rugs in muted neutral hues are easy to coordinate with when it comes to picking out paint swatches and furniture. By updating your worn out rug in the bedroom with a plush beige or white saxony, you make plenty of room for your bolder decor items to shine. 
Laying a Base with Ultimate Gray
Bring ultimate gray into your home design by choosing a focal point in one of your rooms. Perhaps it's the dining room wall or a large loveseat —use gray to lay a base for more colorful designs to pop on. The best part about this color is that gray will never go out of style, making it the perfect option for wall paint, large furniture pieces and even area rugs.
Bringing in Illuminating Decor
Choosing where to tie in a bright yellow swatch isn't as hard as it sounds, especially with busy patterns and luxe traditional styles making a comeback this season. You can easily add a spot of illuminating yellow to your kitchen or bathrooms by installing a tile backsplash or even bright wallpaper over the sink. Buy new end chairs in a yellow suede for your living rooms or add some yellow throw pillows to your couch to give a splash of color to your room. If you aren't sure about committing fully to a yellow wall or solid yellow furniture, find patterns that tie this sun-filled color into their design with fun florals prints or geometric area rugs.
As we continue to quarantine indoors, tying in natural elements throughout our homes is important to maintain a healthy life-balance. Lean into ultimate gray and illuminating yellow this season as both natural colors that can provide a bit of sunshine and earthly grounding to your design dreams.