It's that time of year again: ski season! While it might be fun to break out those snow pants and hit the slopes, where do you layout those wet clothes after a long day of skiing? Most likely, your floors —so it's essential to have waterproof, durable flooring in your ski homes. The good news is you don't have to trade in durability for luxury, as many flooring options these days are both beautiful and built to withstand the test of time.
Wire-Brushed Luxury Vinyl Planks
Luxury vinyl planks are a great option when it comes to flooring in your ski homes, as they are 100% waterproof, stain-proof, and pet-proof, meaning they are designed to combat wet snow gear. Wire-brushed luxury vinyl plank will give your ski home that authentic wood feel without you having to worry about water damage to your hardwood. There's a vast collection of luxury vinyl plank, these days letting you mimic everything from a chic worn barnyard look to wide plank oaks.
Rustic Engineered Hardwood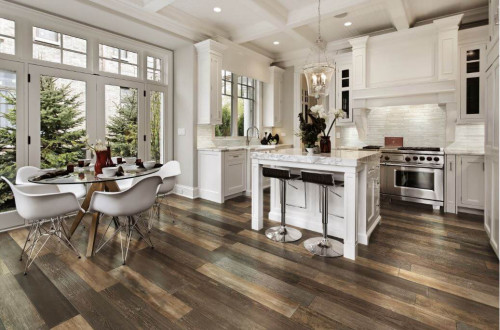 If you're set on having hardwood floors in your ski home, then engineered hardwood is the way to go. This high-end hardwood option is stronger than traditional solid hardwood and makes the best choice for high traffic areas. Rustic hardwood is in with unique textures and grains being a key element as they elevate a space and create a natural, homey feel. Try installing hardwood in your living room or kitchen to bring a bit of the natural world inside. The upside of real hardwood is that it's built to last a lifetime and is a classic way to create a beautiful canvas for your other more colorful decor pieces to shine.
Large Format Stone Tile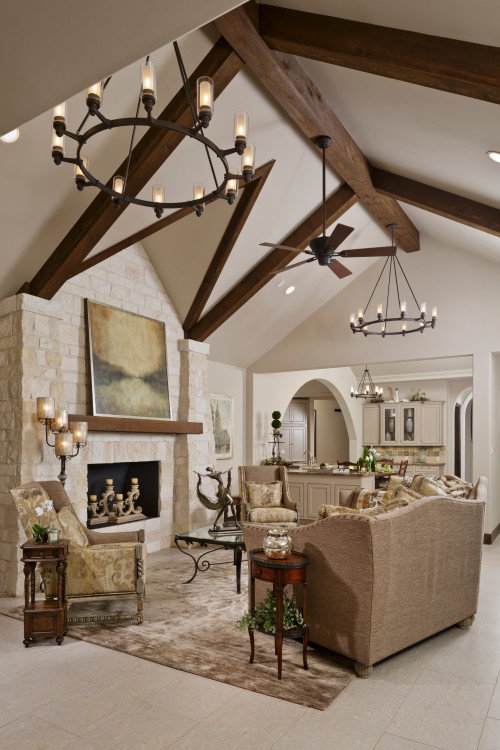 Another fun flooring option is large format stone tiling. Large format flooring is a stylish way to upgrade your home design, and stone tiling is an excellent choice for the higher traffic areas of your ski home, like the entryway where you're tracking in all the snow and dirt from outdoors. Stone tiles are relatively easy to keep clean, only needing to be wiped down —not to mention they pair nicely with welcome mats or decorative area rugs.
Cozy Neutral Carpets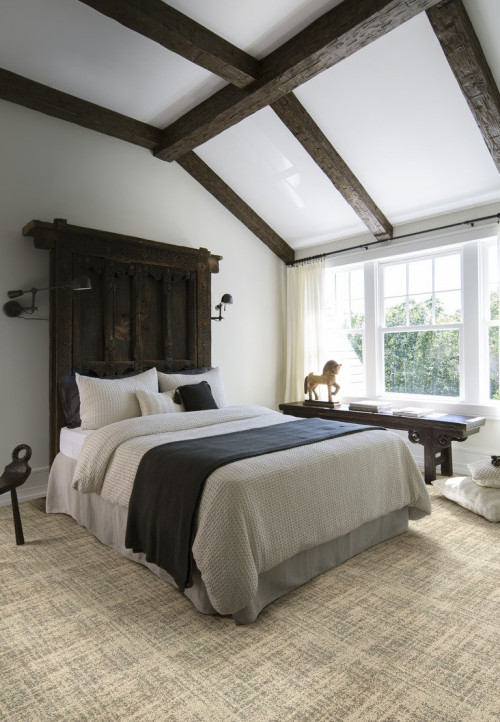 Sometimes after a long day outdoors, all you want is to sink your feet into something cozy. Luckily, with the latest developments in carpet technology, carpet can be installed in almost any room of the home to make a chic statement while also being practical for a ski cabin. Stain-resistant and waterproof carpets make the perfect companion for your living room or bedroom after a long day of being outside in the cold. High pile carpets are excellent if you desire a highly luxurious feeling underfoot, while a darker patterned rug is great for hallways and higher traffic areas of the home to hide any mess tracked in.
How have you incorporated rustic luxury floors into your ski homes?