The year 2020, for many people, changed the way we work. As corporate offices shut down and employees were forced to retire to their indoor spaces, we were challenged to create new at-home workplaces, often without a lot of extra space. Kitchen tables, bedroom nooks and closets were transformed into home offices. Now, as we ring in the new year, home office spaces will continue to trend as we navigate the pandemic and spend more time at home in 2021. Here are a few fashion-forward ideas that will help make your home workplace a more productive and comfy-chic space.
Modern mounted table tops
One way to preserve space is to install a mounted table top that floats freely, leaving plenty of room for drawers and file cabinets to be stored underneath. Mounted table tops are a fashionably modern way to declutter a room, as their their minimal design opens up the space. Their large surfaces also make for the perfect desk to house a desktop, speakers, a keyboard and your laptop when you're working remotely.
Statement chairs
As always, it's important to feel comfortable when you're working from home and one key aspect of your home office should be finding the right chair. Statement chairs are a popular way to show off your personality while also allowing for you to splurge a little extra cash on a cozy seat. Perhaps your space needs a pop of color --try a rich suede jewel toned armchair. Or maybe you're looking for something that blends in more with your decor --opt for a clean line monotone swivel chair.
Personalizations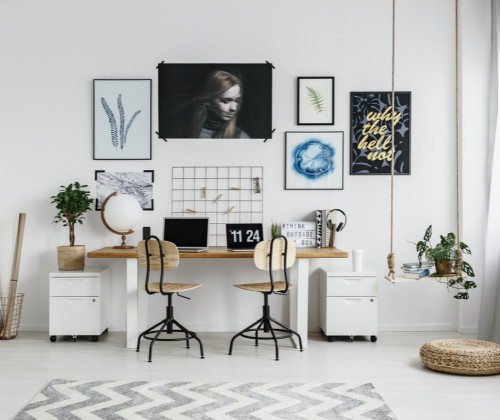 Just as important as feeling comfortable is making your space functional, yet unique to you. Don't forget to infuse your workspace with your personality! You're working from home now which makes it all that much easier to decorate your office with fun photos, posters, mood boards and live plants. Maybe even add a motivational message board that you can switch out daily to remind yourself that you're doing great.
Bold area rugs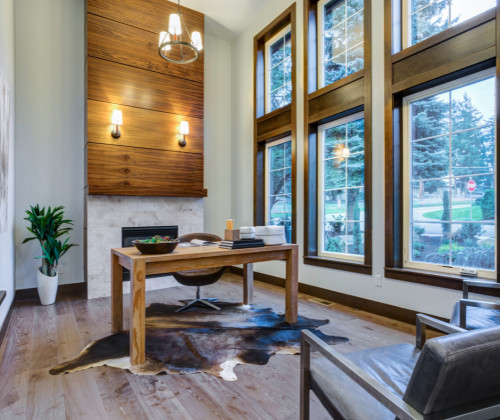 One of the easiest ways to add warmth during this cold time of year is by throwing down a bold area rug at your work station. Maybe place a plush high pile rug under your desk chair so you can sink your feet into it's cozy depths as you answer emails or throw a shag rug across the office to take a break from work and stretch on.
Natural lighting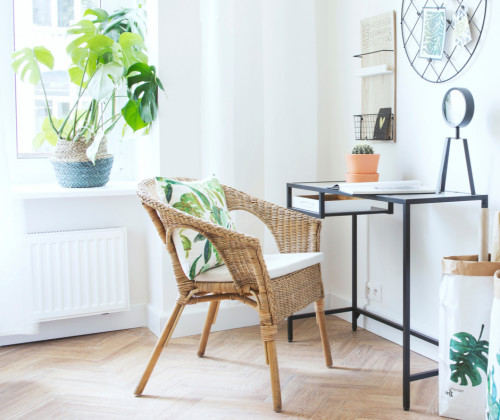 As always, lighting plays a big role in productivity and the more natural light you have in your home office, the better. Try positioning your desk to look out a window. These natural outdoor scenes can enhance your mood and inspire your work. If a window isn't possible, try to create the ambience of natural lighting by sprinkling a few desk lamps and standing lamps throughout your workspace. You can even hang some twinkle lights around a bulletin board to emit a cozy glow. 
How have you incorporated new design trends in your home office space to make it a functional and beautiful workplace for you?